Roof pipe flashings for the metal roof industry. Perfect for sealing pipes and cables, and ideal for watertight sealing around installation elements/ducts penetrating the roof slope (i.e., ventilation pipes, solar ducts, chimney flues, electric cables and wires or other elements passing through the roof slope).
Specifically designed to seal pipes or vents that require a wrap-around product, or for hard-to-reach installations.
Made of EPDM rubber with soft aluminium base to fit metal roof profiles, these flashings are compounded specifically for maximum resistance to weathering due to ozone and ultraviolet light
3 sizes to fit 7/8"-9 1/2" (22-241mm) diameter pipes
Available in 3 EPDM colours – black flashings available on stock, other colours on special request
Round base
Installed from the side of the pipe
Can be used on various types of metal roofs including profiled metal tiles, metal flat sheets, and metal trapezoidal sheets
The soft aluminium base fits easily to most metal roof profiles regardless of pipe location
Sleeve flexibility accommodates vibration and pipe movement caused by expansion/contraction
Stainless steel gripper to secure partially vulcanised with the flashing already for easy installation
Easy installation with farmer screws
Cut lines clearly marked to allow for easy installation for multiple pipe sizes
Temperature resistant from -55°C to +100°C continuous (+135°C intermittent)
Ozone resistance: EPDM 70 hour @ 500 pphm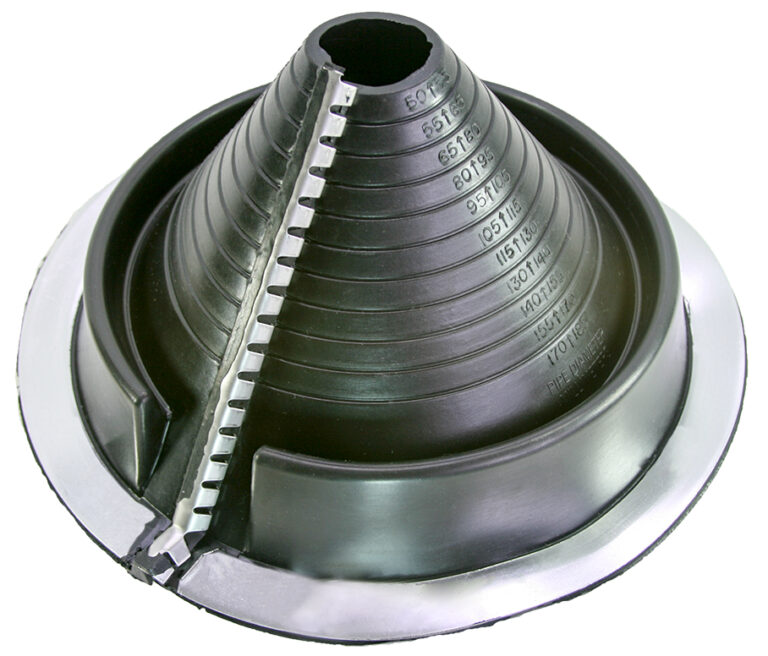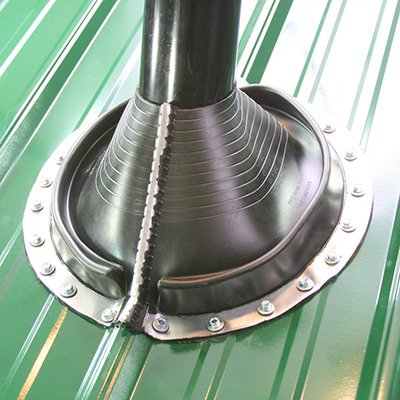 PICTURE

ITEM SYMBOL

ITEM NAME

PIPE SIZE
retrofit installation

BASE TYPE

EPDM COLOUR

TOP OPENING

BASE DIMENSIONS

TECHNICAL DRAWING

MASTER FLASH® UNIVERSAL RETROFIT no.1

MASTER FLASH® UNIVERSAL RETROFIT no.2

MASTER FLASH® UNIVERSAL RETROFIT no.3
Although colour stabilizers are milled into the primary raw material, a slight fading is to be expected over time. The properties and guarantees of the product will not be affected.