Roof pipe flashings designed to meet the needs of solar and photovoltaic industry when multiple roof penetrations are needed.
Made of high-temp silicone with soft aluminium base, these flashings are compounded specifically for maximum resistance to weathering due to ozone and ultraviolet light
1 size to fit 0" to 1-15/16" (0-49mm) diameter pipes
2 additional ports to accommodate 1-9mm cables
2 additional ports to accommodate 4-23mm cables
Available in 2 colours – red and grey
Square base
Installed by sliding down the pipe
Designed for the air conditioning sector
The pitch canal allows for maximum flexibility, easily accommodating pitches of up to a 60º without affecting performance
Applicable with photovoltaic solar panels
One design to handle many jobs as its 5-ports offer multiple functions
The soft aluminium base fits easily to most metal profiles regardless of pipe location
Sleeve flexibility accommodates vibration and pipe movement caused by expansion/contraction
Easy installation with farmer screws
Cut lines clearly marked to allow for easy installation for multiple pipe sizes
Temperature resistance: -74°C to 225°C continuous (+260°C intermittent)
Ozone resistance: 70 hour @ 500 pphm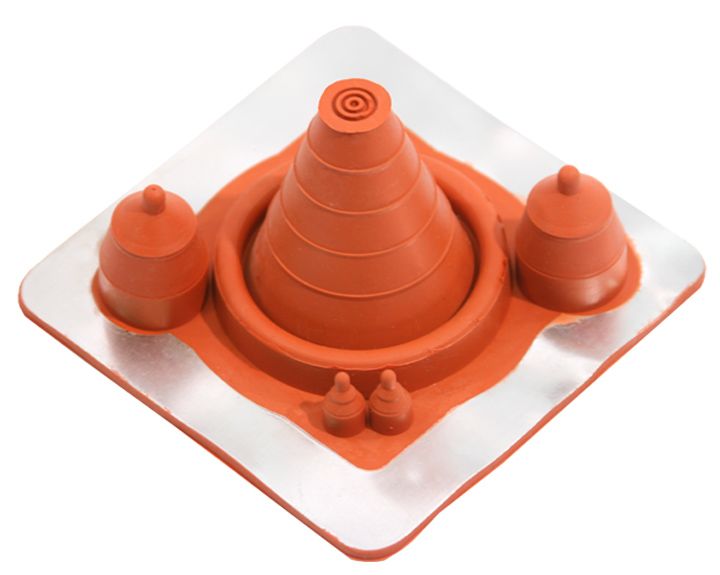 PICTURE

ITEM SYMBOL

ITEM NAME

PIPE SIZE
standard installation

BASE TYPE

SILICONE COLOUR

TOP OPENING

BASE DIMENSIONS

TECHNICAL DRAWING

MASTER FLASH® SOLAR MULTI PORT MR

"Center port: 0 - 49mm Two ports: 1 - 9mm Two ports: 4 - 23mm"
Picture

Color

RAL No.
Although colour stabilizers are milled into the primary raw material, a slight fading is to be expected over time. The properties and guarantees of the product will not be affected.