Master Flash® EPDM (Ethylene Propylene Diene Monomer) flashings are compounded specifically for maximum resistance to weathering caused by ozone exposure and ultraviolet light. EPDM flashings are able to withstand temperatures from -55°C to 100°C with continuous heat exposure or 130°C with intermittent heat exposure. If higher or lower temperature resistance is required, please see our Master Flash® Silicone range.
Master Flash® flashings guarantee watertight sealing around both round and square pipes, ducts, cables, and flues in industrial or residential buildings. They can be used on all types of roofing including, but not limited to, profiled metal roofs, flat metal sheets, trapezoidal sheets, plastic sheets, concrete tiles, ceramic and slate tiles, and façades. Alongside our standard 20-year warranty for Master Flash® EPDM flashings, we can offer a range of EPDM products that carry a 35-year warranty, available on special request.
Among our wide range of Master Flash® flashings you will find types designed not only for the roofing industry, but also for the heating, ventilation, and air conditioning industry (HVAC). There are also flashings perfectly suited for chimneys, stoves, and solar panel applications, as well as special jobs on extremely steep roofs. Our extensive range includes flashings to suit small sizes for sealing cables and wires, right up to the biggest flashing in the world that allows a seal for a 1-meter diameter pipe, so we are sure to meet the needs of all customers.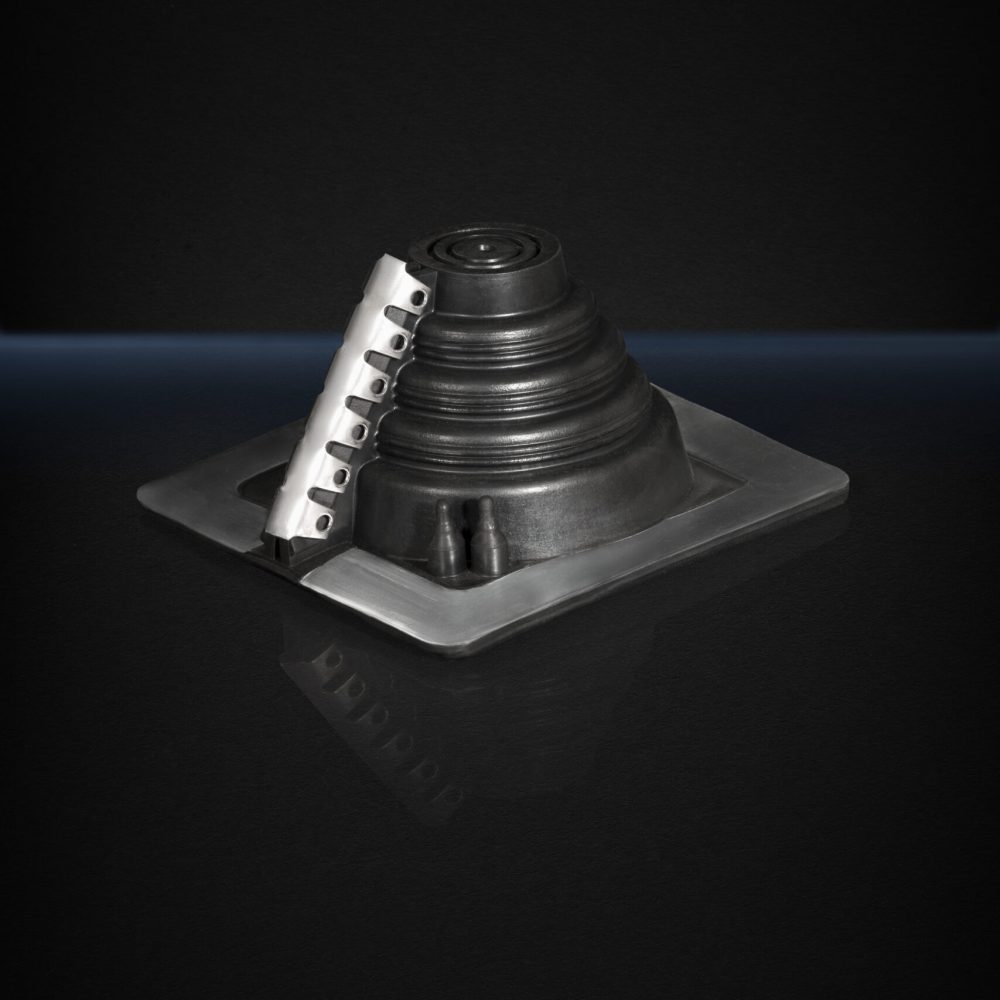 Master Flash® products dedicated for installation on metal surfaces are available with round or square bases, while for residential applications on tiles or slate they come with enlarged aluminium or lead base. The Aztec Master Flash® Standard series comes ready to use; after it has been trimmed to match pipe diameter, simply slide the flashing down the pipe. The Aztec Master Flash® Retrofit range is a series of flashings already cut open to be wrapped around the pipe. The Aztec Master Flash® Multi series is designed for multifunctional use; the flashings can be cut open or not, depending on your needs. Master Flash® EPDM flashings come in black as standard, but a wide range of colours can be produced on special request.
Master Flash® products can be ordered on their own, or in a set with all that is needed for installation – fasteners, sealant, and a clear instructional guide.
Aztec Washer Company manufactures Master Flash® in its own factories. The entire supply chain is controlled internally with nothing made under licence. Aztec are innovators, continuously bringing new products to the marketplace. Thanks to a highly skilled manufacturing team, an R&D department, and a specially trained chemist, Aztec is active in development of new products and high standards.
Does your project request a non-standard solution? We would like to take this challenge! Please contact our sales department.